Brian T. Loughrin, Attorney Profile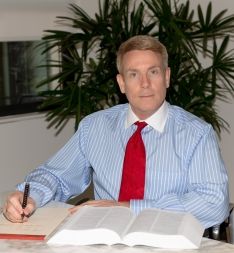 Brian Loughrin is an experienced and knowledgeable tax attorney* who has represented clients for over 20 years. His particular expertise in the area of IRS tax law coupled with his unique dedication to his clients' property rights have enabled him to secure successful results in numerous cases. His admission before the United States Tax Court (and US Supreme Court) allows him to see your tax matter thru to the highest levels as may be necessary. No matter the particular circumstances of your IRS tax liability situation; Income or Business, he and his staff will assist you in obtaining the best possible outcome under your unique circumstances.
Bar Admissions
United States Supreme Court
United States Tax Court
United States District Court-ND of Florida
United States Court of International Trade
United States Court of Federal Claims
United States Court of Appeals-Federal Circuit
United States Court of Appeals-10th Circuit
United States Court of Appeals-11th Circuit
United States District Court-WD of Oklahoma
Oklahoma Bar Association (all Oklahoma Courts)
Education
Detroit College of Law at Michigan State University (Detroit, MI) JD
Michigan State University (East Lansing, MI), BA Advertising
Lansing Community College (Lansing, MI), AD Legal Assistant
The Right Tax Attorney
The right tax attorney can make all the difference in the outcome of your case. Tax Attorney Brian Loughrin represents clients throughout all of Florida. When you trust your tax matter to him, you will get the personal attention and one-on-one service that you need. The office is located in Orlando**, not at the unknown end of some 1-800 number !!

Tax Attorney Brian Loughrin has the knowledge and the experience necessary to assist you. Dealing with tax problems can be one of the most stressful times in anyone's life; Don't handle it alone! You need an experienced tax attorney who understands Federal tax law and how to help YOU end YOUR tax problems.
Contact us today for a FREE consultation regarding your tax problems!

Tax Attorney Brian Loughrin has offices in Orlando and Tampa (www.TampaTaxRelief.com), FL.